Safety Blood Collection Needle
---
Product Overview:
Medline's safety blood collection needles have 2 types, safety needle type and safety butterfly type. Both of the two types adds the safety mechanism, ensures the medical staffs won't be hurt by accidental needle puncture injuries.
---
Inquire Now
---
Product Description:
Two basic types,
① Safety blood collection needle - Safety needle type, including safety injection needle and multi-sample needle,
② Safety blood collection needle - Butterfly type, including safety double wings, kink resistance tube and multi-sample needle.
Both of those 2 types can be matched with the needle holder, easier for the handling of vein blood collection process.
Product Feature:
1) Safety cap design:
stable safety mechanism ensures the safety, will not fall off naturally. After the blood collection, the nurse just needs to press the safety cap on the flat table to reach the purpose of covering contaminated needle tip;
2) Safety butterfly sheath:
transparent safety sheath provides a quick blood collection feedback, easy to watch if the needle is inserted into the venous or not. Through thumb pushing the sheath or softly pulling the tube, thus to make the needle retracts into the protective sheath;
3) Sharp and smooth needle edges make penetration painless, easy connection to rubber stoppers;
4) Different colors design (safety cap or double wings) easy for the distinguish of different sizes;
5) Latex free and DEHP-free materials can be applied.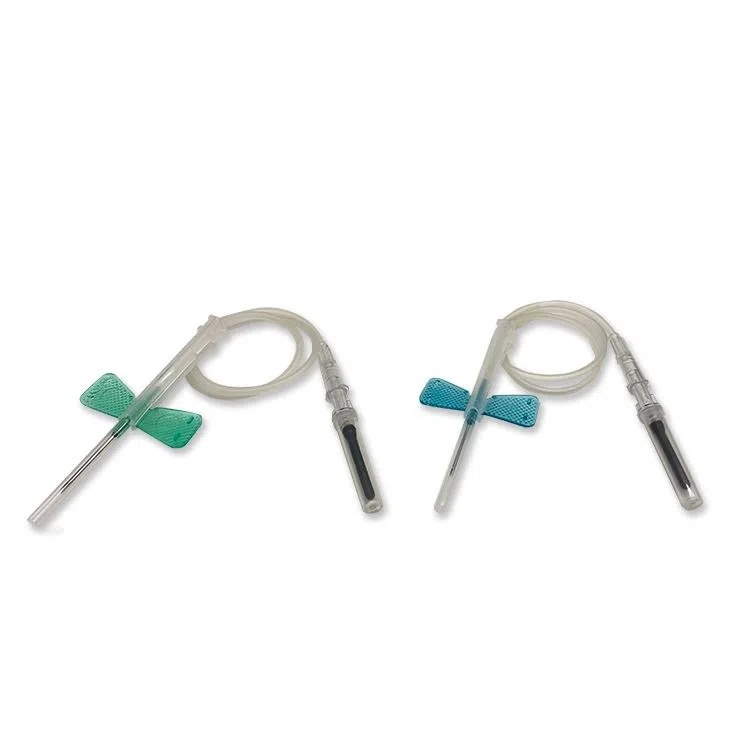 Product Specification:
Product Specification:
Safety cap design - 21G, 22G, 23G is the most widly used specification, normal 1'', 1-1/4'' and 1-1/2'' neelde length;

Safety butterfly design - 19G-27Gx19mm, normal 20cm or 30cm transparent tube.
Product Certificate:
CE, ISO, CFDA, etc.
Hot Tags: safety blood collection needle, China, manufacturers, suppliers, factory, wholesale, buy, price, quality, cheap, in stock, Medical Heparin Cap, Scalp Vein Sets Luer Slip, Disposable Hypodermic Needle, Needle Holder With Luer Adapter, Blunt Tip Needle, Needle Holder
safety
needle
blood
collection